I used a very slow rise and a well developed starter for this recipe. I maintained the starter for approximately 3 months in the refrigerator with weekly feedings @100% hydration (equal parts water/flour by weight).
It was started with 50% kamut/50% bread flour, and fed with a water/white flour for subsequent feedings. The kamut enhances the sourness of the starter. I keep two containers of the levain in the fridge, and use them on a rolling basis as I bake. I used a Florapan dry french sourdough starter to kick things off. While a little unconventional, the Florapan is actually meant to produce a quality starter in 24 hrs, as opposed to the normal 3-4 days for a natural Levain.
My adaptation here is that I built the starter and treated it as a conventional Levain with regular discards & feedings. This gives you the flexibility of "bread tomorrow" in case you dont want to fuck with the active starter. However, the maintained starter will have much greater depth of flavor. Up to you !
Levain
8 oz water
6-1/2 oz. KAF Artisan Bread Flour
2 oz Kamut Flour
1/4 tsp KAF french style dry starter (Allemand)
In a mixer, add the flours & starter. Add the water and mix for several minutes to activate the gluten.
Cover and set aside in a warm area for 18-20 hrs. When ready, the Levain will have expanded by around a third, with well developed bubbles & pleasing aroma. At this point the Levain can be used, but for this evolution I refrigerated, discarded & fed it over several months using 100% hydration with KAF artisan bread flour (no additional kamut ) on a weekly basis.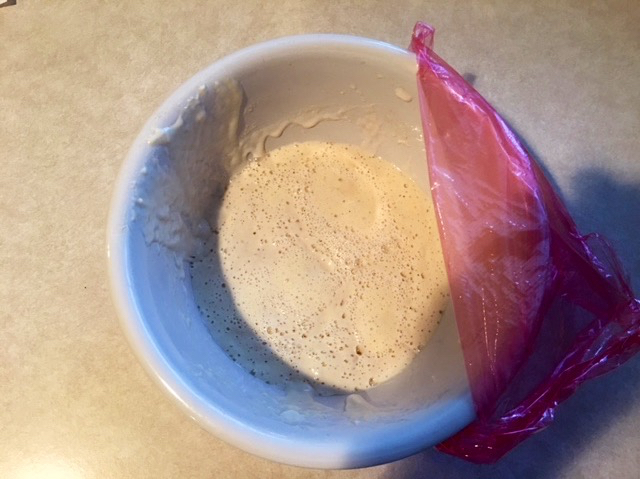 Dough
7 oz Levain (from section above), recently fed.
10.6 oz water
10 oz. KAF Bread Flour
2 oz Kamut Flour (Red Mill or equivalent)
3 oz Rye Flour
1/4 tsp SAF red instant yeast
1.5 tsp sea salt
Stir together the Levain and water. Add remaining ingredients except salt to mixer bowl and mix on speed 2 until a rough shaggy mass forms.Let autolyze for 20 mins.
Add salt and mix on speed 4 for approx 10 minutes until smooth and elastic. Move to bowl, lightly spray with oil and cover until doubled in volume, approximately 2 hrs.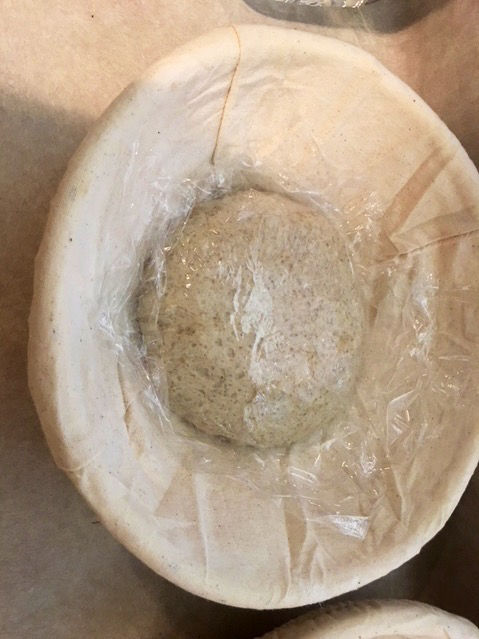 Move to lightly floured surface, gently form a rectangle and give it two business letter turns. Return to bowl, lightly spray with oil and cover until doubled in volume, approx. 1 hr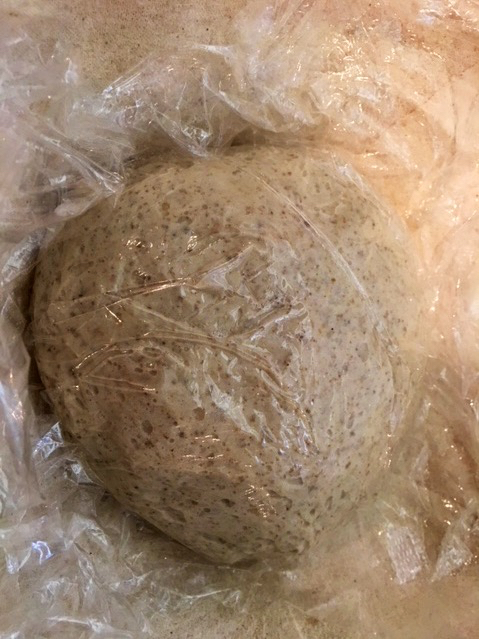 Move to lightly floured surface, gently form a rectangle and give it two business letter turns. Place in Banneton, and cover. Refrigerate overnight. This intermediate slow-rise will help develop deeper flavor and nuance.
The next day, preheat oven to 475 & place sheet pan in oven bottom (to increase steam & crust). Remove Banneton from refrigerator and let come to room temperature ~2hrs. Move rectangle to floured surface and give it two business letter turns, then form into Boule shape while crimping the dough at base. Let rise on a transfer board with parchment sheet ~1 hr.
Slash with lame, transfer to oven stone via parchment.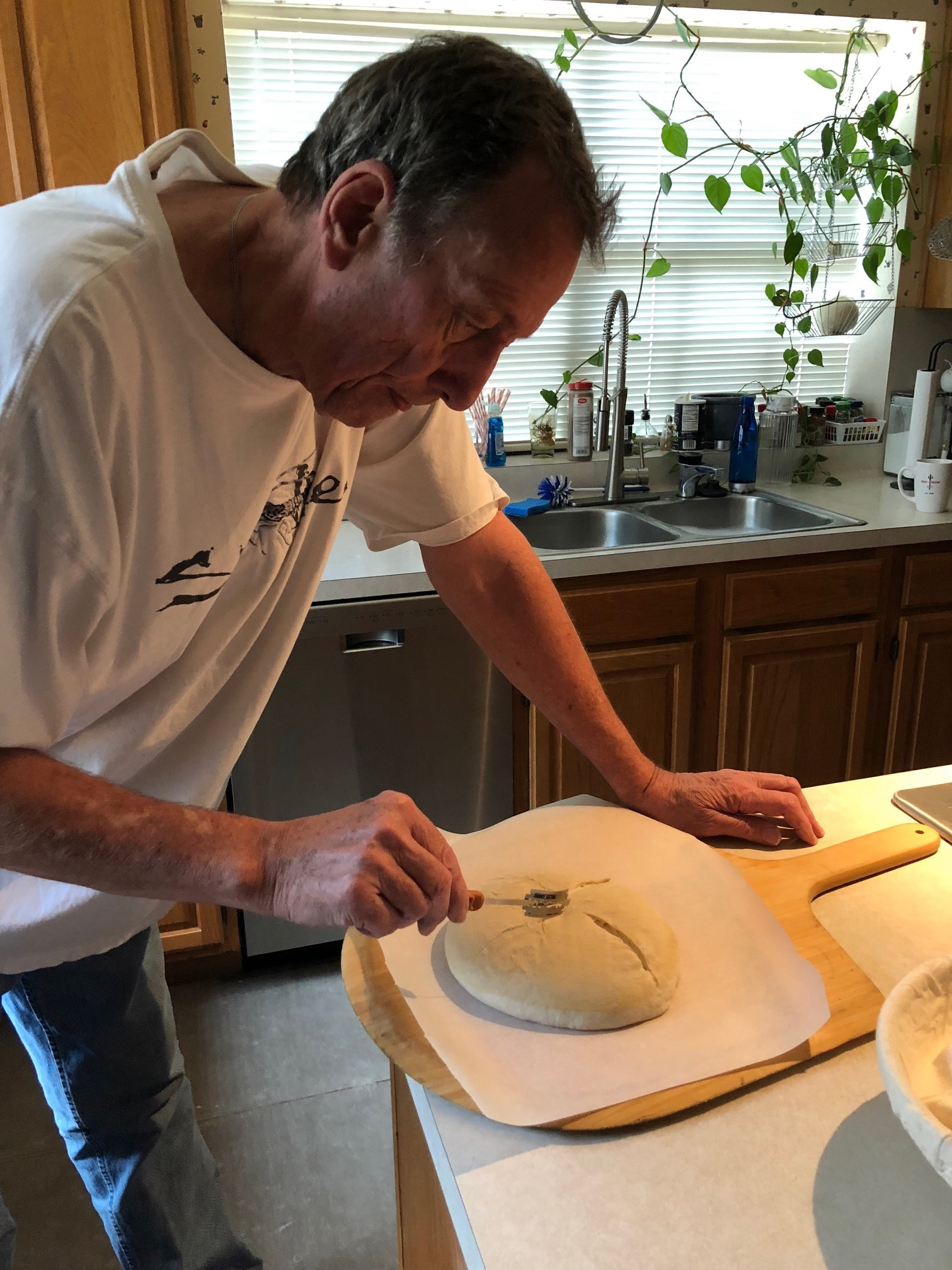 Immediately throw 2 cups of ice in the bottom sheet pan & spritz the dough with spray bottle. Close oven and bake 5 minutes, then lower heat to 450.Bake @450 ~10 mins, remove parchment and rotate loaves 180 degrees. Continue baking ~10-15 mins (internal T=212).
Remove from oven, check temp and hollowness with light tap. Let cool on bread rack.
EAT !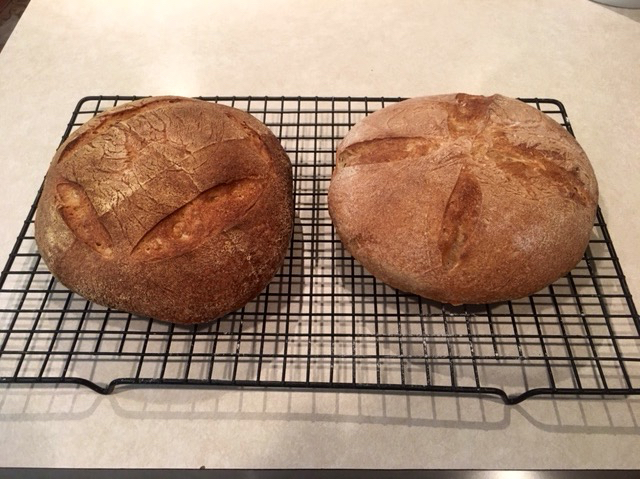 Critique
Overall, I was pretty satisfied with this. This was my first Boule after developing the Levain described above. Having said that, it could have gone better.
The smell and flavor was delightful. Just enough tang to make me feel happy.
The crust was thin, very hard & crisp. Just the right amount of chew.
The crumb needed some help here, mainly due to my technique. The air pockets are uneven, I would have preferred a more uniform pocket distribution. I attributed this to my folding technique, I omitted a folding during the rise which was a bad idea.
The bake time was a little too short, as I ended up with a slightly undercooked dough layer at the bottom of the Boule. This was a little weird as I confirmed the temperature with an instant read. This led to a slight gumminess to the bottom crust. I have a tendency to undercook, so that ones on me.
Rise was a little less than what I was aiming for. Not bad, but the dough is pretty sloppy when it hits the stone, my thinking is that the dough spread laterally across the stone while rising. This could have been caused simply by the viscocity of the dough, or an ineffectual seal when forming the ball. I'm intrigued with how well a dutch oven would work here when you have a dough with high water content, as the walls would force the loaf to rise vertically.