Now dont go gitting all stressed out about this one. It's a little complicated, but pretty tolerant of minor fuckups. Basically, we will build a choux pastry, piped & baked in appropriate shapes, and then filled & assembled with a chantilly cream.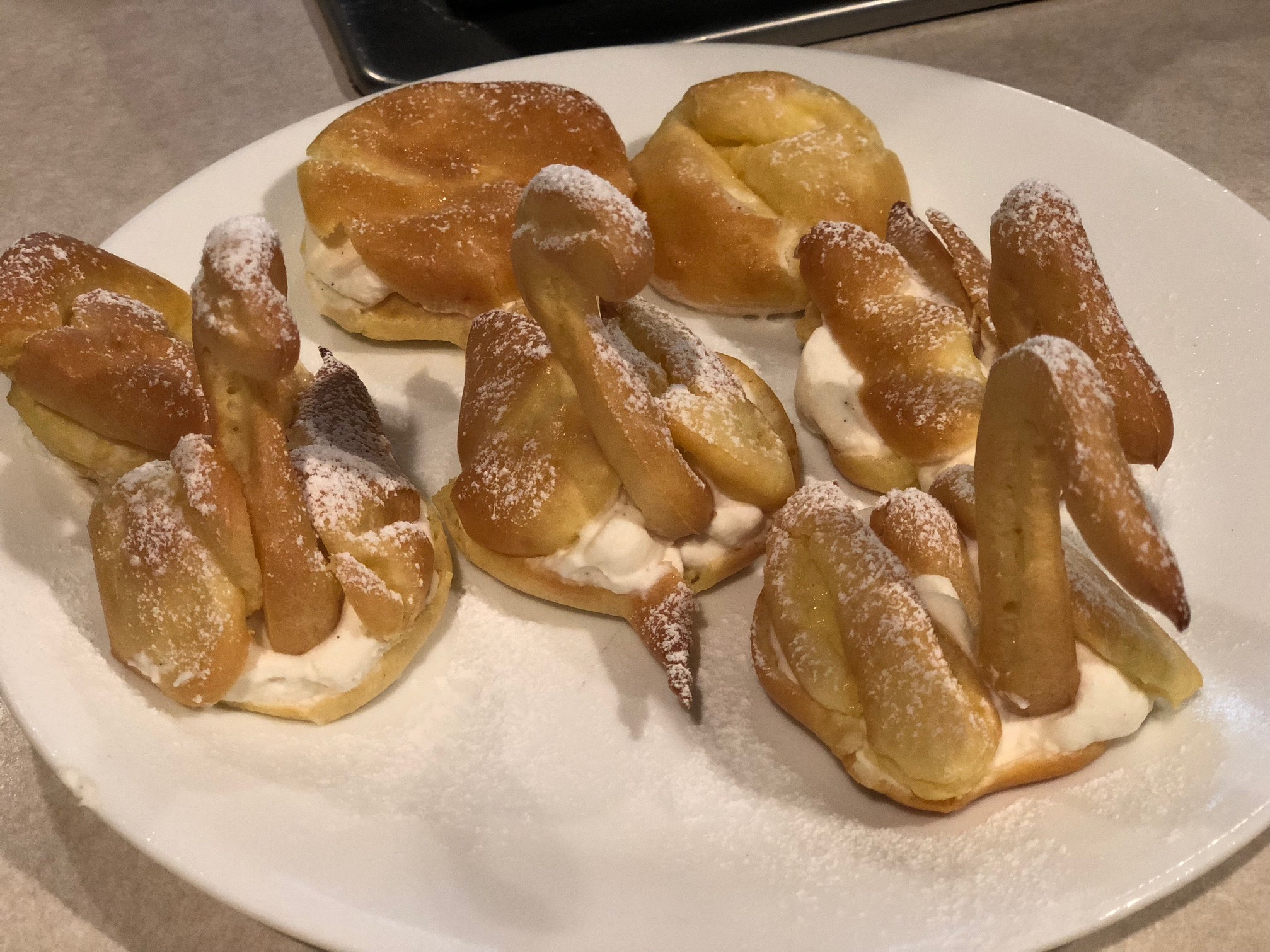 This was adapted from a Cygnes Chantilly recipe from Le Cordon Bleu. First of all, this didnt quite turn out as I anticipated- so you'll get the benefit of my mistakes.
Choux Pastry
2/3 c Water
2/3 c Sifted all purpose flour
1 tbsp Sugar
1 pinch Salt
1 egg slightly beaten, for glazing
3-4 eggs
3 tbsp unsalted butter
Preheat to 400. Brush baking sheet with softened butter.Combine water, salt, butter, sugar in heavy saucepan. Cook over medium until butter melts & water comes to a boil.
Remove from heat & add all the flour at once. Beat vigorously with a wooden sppon until thick smooth dough forms. Return to heat at low. Cook, stirring constantly until dough pulls away from bottom & sides of pan.
Remove pan from heat and beat in 1 egg until thoroughly blended. Repeat for two additional eggs. The fourth egg should be added in stages until dough is smooth, shiny, and falls slowly from a spoon in a point.
Pipe the choux pastry into appropriate shapes for the swans. I used a round puff pastry for the base, 'S' shapes for the swan neck, and for the wings I used a teardrop shape. Brush each shape with egg glaze.
Bake 15 mins without opening door. Reduce heat to 350 and cook until golden brown, ~10 mins.
Chantilly Cream
1-1/4 c Heavy cream2 tbsp confectioners sugar
1 tsp Nielsen-Massey vanilla bean paste
Combine cream & vanilla in chilled mixing bowl. Beat into submission until cream starts to thicken. Add the sugar and continue until stiff peaks form. Spoon into pastry bag with straight tip and refrigerate until use.
Assemble Swans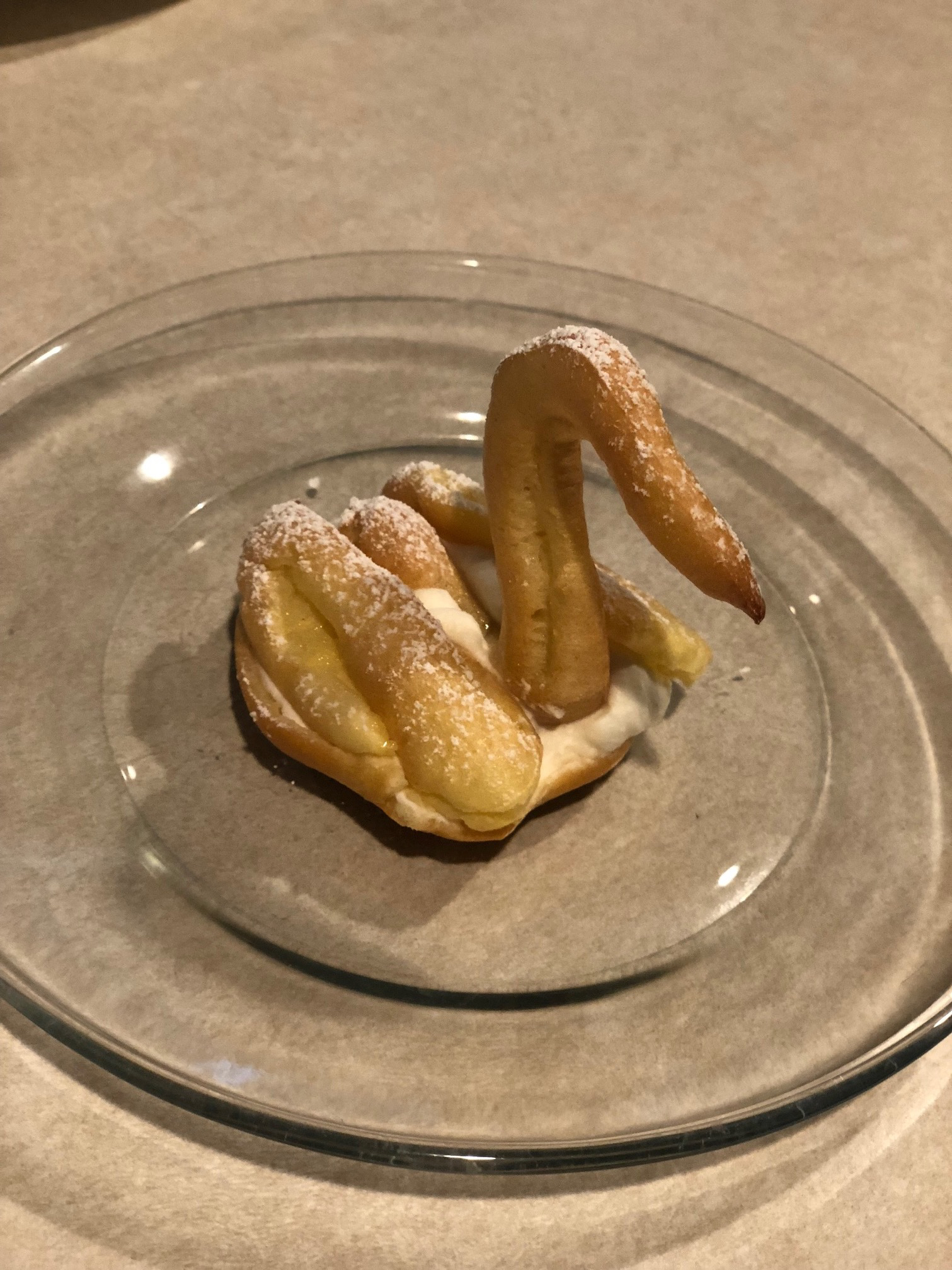 Basically, we are assembling the swans from the premade choux shapes, held together with the Chantilly Cream. A split round puff pastry is used as the base, covered with Chantilly Cream. The neck is then added to the base, making sure plenty of cream is used as 'glue'. The wings are then added in a similar fashion, completing the swans. Dust with condectioners sugar to complete the presentation.
Critique
As you can see from the image, not a perfect presentation ! A couple things are going on here in no particular order:
1. The necks are WAY too large. These should be slim & elegant.2. After the puff pastry was removed from the oven, unfortunately my dinner guests ran much later than anticipated. This caused the pastry to collapse over time (see the photo at top of article). A good solution here would be to gently vent the shapes immediately after they come out of the oven. This should preserve the shape in the event of a delayed start.3. Other than the final collapse of civilization, these came out quite nicely from a texture & taste viewpoint. The guests didn't seem to mind at all.