Ok, these rolls are nothing short of friggin awesome. The characteristics that set this one apart is the use of a Tangzhong starter which is a no-ferment roux. The buns are light, airy, with a nice crumb. The crust is a nice golden thin crisp, with a gloss finish. I'd avoid a lot of butter before serving, to preserve the crust.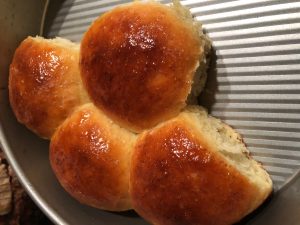 Tangzhong Starter
1.5oz. water
1.5 oz Whole Milk
.5 oz. KAF Bread Flour
Whisk all ingredient in small sauce pan over low heat 3-5 minutes until thickened. Set aside to cool.
Dough
10.5 oz KAF Artisan Bread Flour
.5 oz Dry Milk (Carnation is ok, but prefer KAF)
1.75 oz Sugar
1 tsp Salt
1 tbsp Instant Yeast(SAF red)
4 ox Whole Milk
1 egg(eggwash)
2 oz melted butter
Combine starter & remaining ingredients (minus the egg!). Knead until smooth & elastic.  Shape into ball, rise 1-1.5 hrs
Gently deflate & shape into 8 sealed/crimped balls, place in round roll pan (one in center)
Cover & rise ~1 hr
brush with eggwash, bake @350f ~25mins (internal temp=190)
Cool on rack, brush with butter
EAT !
This is what happens when you turn your back for 2 minutes: